Keep Your F-150, Escape, Explorer, Bronco Sport or Ranger in Top Shape Near Wisconsin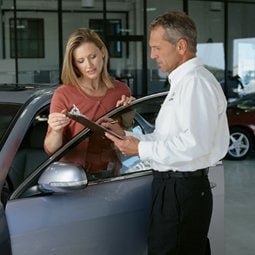 If you've ever received unsatisfactory service on your Ford model, then you understand the value of a team who knows what your car needs for optimum performance. When you bring your vehicle to Fountain City Ford, you can count on our trained technicians to do it right the first time because they have the right tools for the job. To us, you're more than a customer; you're family.
Service your Ford at Fountain City Ford
From smaller maintenance tasks like oil changes and inspections to large repairs like brakes, transmission, exhaust (and more), drivers can count on the Fountain City Ford service team. From routine service on your Ford vehicle to service on other brands, Fountain City drivers can look to our service team with confidence. Beyond this, Wisconsin drivers can look to our service team for warranty and recall assistance (depending on your brand and model).
Take Advantage of Professional Ford Service in Fountain City
The best part about using our dealership service center is we make it easy to get your vehicle the service it needs. Our topnotch customer service standards mean we'll fix your vehicle correctly, do it quickly, and that we strive to make it better on your busy schedule. Use our online service scheduling form to pick the day and time that works for you to bring your vehicle in, and we'll do our best to accommodate that and get you in when it's convenient to your life. Reach out online or stop by and let's get your vehicle into the Fountain City Ford service center for maintenance soon.